In September ClimaCheck online will receive an update improving the web application. The changes are made from suggestions from our users and our engineering staff. The updates are made to keep up to date with technology changes affecting ClimaCheck online.
No Action is needed from our users as these changes will take place without changes in infrastructure or cause any down times.
These Changes are part of our continuous work on performance, improved response times, security and usability. Upcoming updates include further improvements in these areas and specifically into bridging the gap that exists in visualisation when accessing the last 24-48 hours.
Notable changes
Data tables
Both in Tab-view and Single-process-view tables are visually aligned with the rest of ClimaCheck online. The new table have a higher grade of user configurability and improved response times and the table also have enhanced export functionality.
This new table is configured in the same way as the previous one and the settings for both user and system is still accessed from the top menu. In the table itself the user can temporarily alter the column order and hide columns via drag-and-drop to get at quick-overview or correlation between datapoints
Averages are now also available when accessing historical data, not only when looking at incoming values.
Overviews
The pages for configuring status and overlooking alarms has also changed. In the same way as the table these pages has altered to visually match ClimaCheck online.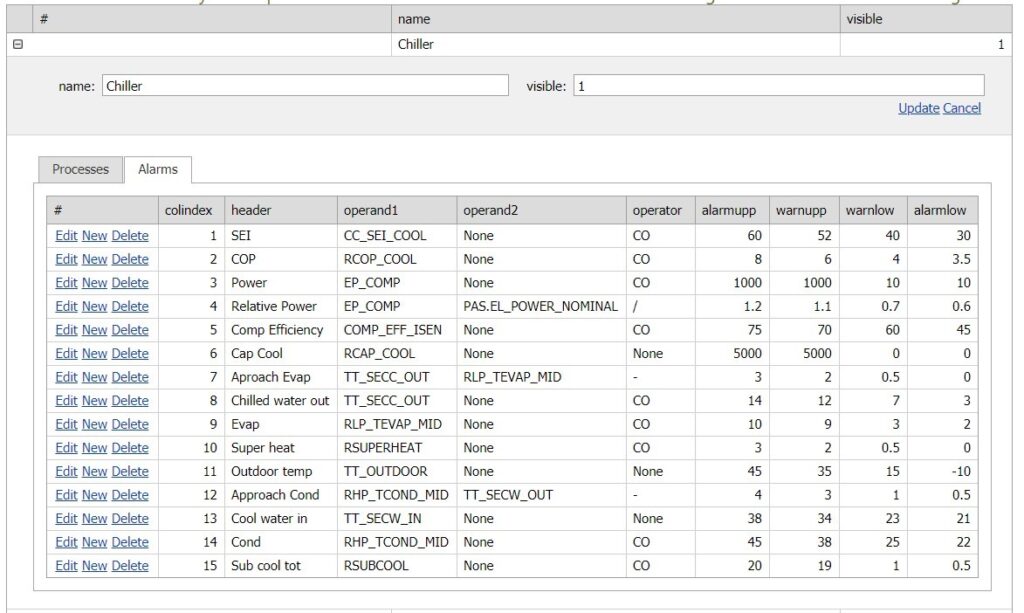 Download of data
Previous errors and long response times of data download has been fixed.
Minor Visual & Infrastructural Changes
Graph default timespan is now 24h
ClimaCheck online now available in Korean
Flowchart configuration, storage and visuals improved
System security improvements
System response time optimisations
ClimaCheck online operational upgrade
If you want to know more about ClimaCheck online and how you can use it to minimise energy consumption, maintain energy efficiency and improve the performance of facilities heat pumps, chillers and air conditioning.
You are always welcome to Contact us for more information!