With rising temperatures and higher demands on productivity the indoor climate is getting more focus in many industries. Excessive heat in a manufacturing or warehouse environment has negative effects on workers, production levels and even the quality of produced or stored goods.
A system failure will halt the production and risk both workers and goods.
By using ClimaCheck, you will get precise information on your system performance and how efficient your energy is used real time. If the performance is changing in the system, ClimaCheck can send a warning to e.g. the facility management so they can fix the problem before it causes the system to breakdown.
Analysing the HVACR-system with ClimaCheck makes it possible to optimise it and work with predictive maintenance to avoid failures. Savings after optimisation is usually around 10-30% and the system is much more reliable.
Case Studies Industrial :
Read more about the implementation in the best practice guide of Cool-Save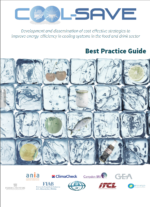 If you want to know more about how to minimise energy consumption, maintain energy efficiency and improve the performance of facilities heat pumps, chillers and air conditioning.
You are always welcome to Contact us for more information!