Competence is the key for the future professionals to lead the change!


ClimaChecks global network of competence is continuously growing. Every year ClimaCheck trains and educates hundreds of experts that work in the field as well as trainers (train the trainer). To spread the knowledge and possibilities of ClimaCheck and the new workways that is possible with performance analysis from ClimaCheck.
ClimaCheck offer a unique method (The Internal Method) that is based on thermodynamics for performance analysis and energy monitoring of refrigeration, air-conditioning and heat pump (HVACR) systems. 
The information from ClimaCheck analysis, enables completely new way to work with HVACR-systems. By continuously analyse performance it is possible to, work with energy optimisation, early warnings, and predictive maintenance. In ways that is not possible, cost efficient or practical with the conventional methods.
Therefore, we are working actively to raise the awareness and knowledge around HVACR-systems to decrease our industry's negative effect on the environment. We offer training all round the world within the ClimaCheck network, from entry courses to advanced deep dives into the technology.
Is your organisation ready to take the next step? Participate in a level 1 or level 2 or contact us for a custom training for your company.  
Level 1
Basics of ClimaCheck hard and software. Measuring & verification with ClimaCheck on basic HVACR-systems.
How to use, interpret results and create reports on basic systems as well as how to create a performance report.
This training can be done with limited experience of ClimaCheck system / analysis. 
Level 2
Is focused on ClimaCheck based optimisation, for those who has practical experience from measurements with ClimaCheck and want to develop the skills to measure, analyse and optimise complex HVACR-systems.
This course is a deeper dive in the ClimaCheck information as well as Predictive Maintenance (Early warnings), troubleshooting, optimisation and reporting rather than the ClimaCheck hard- and software.
Prior experience of ClimaCheck is required to participate in Level 2.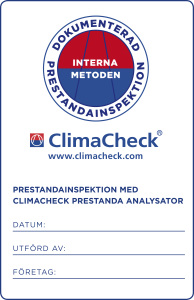 International training
Once a year ClimaCheck have an international training with training performed by experts from ClimaCheck and our Network. We will guid the participants through practical and theoretical training sessions and exchange experience for two days.
For more information, email: training@climacheck.com 
Certification from "ClimaCheck Training" is required to be listed as
"ClimaCheck Partner".
Find out when our next training course is in our Event Calendar.