ClimaCheck concom is a cost-effective communication module for condensing units and chillers to ensure efficiency and reliability in convenience stores, gas stations and commercial kitchens.
The perfect solution to get full control and decrease service and energy cost for smaller systems with standard controllers that already have data points installed. If data points are missing these can be added directly to the communication module for plant optimisation, troubleshooting and benchmarking.
ClimaCheck concom is developed to bring data points and alarms available in standard controls to ClimaCheck online cloud based services. In one cost-effective solution ClimaCheck concom integrate:
Alerts/alarm handling over text and E-mail to multiple recipients through built in modem – ClimaCheck early warning of deviation in performance often long before failures and energy bills increase – contractor can do all analyses from office and identify problem before

going to site.

Temperature monitoring and logging of cold rooms, display cases and rooms
Indirect leak detection – reduce number of required leak detection visits
Energy monitoring and reporting for owners.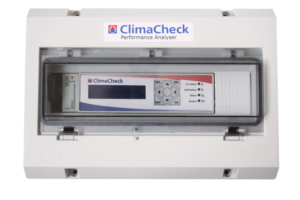 ClimaCheck Performance Dashboard and Energy Reporting ClimaCheck offers state of the art visualisation of performance that give early warning if the energy consumption is increasing or validate if optimisation measures give desired savings. ClimaCheck will pinpoint any problems – System Efficiency Index (SEI) and Sub efficiencies highlight deviation from optimal performance and allow benchmarking. The following is available in real time on ClimaCheck online:
COP/Energy Efficiency (Coefficient of Performance).

Compressor and heat exchanger efficiency (inlet/outlet temperatures, power input)

Total energy consumption

and Buildings energy signature for heating/cooling

Refrigerant charge/Leakage monitoring –

indirect leak detection

Alarms for Pressure, Temperature, Power, etc.
Alerts on SMS or E-mail State of the art alerts are available through ClimaCheck online well proven features. Alerts are preset on measured and calculated parameters and sent through SMS and/or E-mail to users according to desired schedule. High level analytics allow early warning with a minimum of false alarm. Early detection of leaks is possible to reduce emissions and minimize number of leak detections required in EU. Early warning prevents high energy use and failures.
Energy reports and Energy Signatures! ClimaCheck online services build an energy signature that allow owners to follow the energy consumption of their plants and system to automatically send alert if energy consumption increases. Technicians can troubleshoot any deviation from expected or historical performance. To know the baseline is the first step in optimisation. ClimaCheck enable comparisons between sites or equipment configurations.
product sheet

information på