The unbiased ClimaCheck method!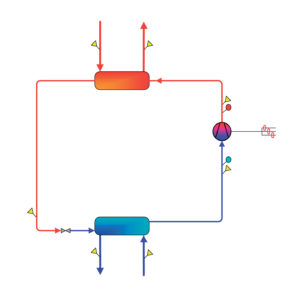 The ClimaCheck method is based on the "Internal method" that ClimaChecks founder Klas Berglof invented in the 80's. The "Internal Method" / ClimaCheck method is based on thermodynamics, which differs it from conventional methods in many ways.
Doing performance analysis with the Internal method enables users and equipment owners, to work efficient with predictive maintenance and energy optimisation in practically any Heat Pump, Chillers and/or Air-Conditioning (HVACR-systems). It also makes it possible to see/analyse performance on a component level in the system.   
If you want to know more how you can save energy, predictive maintenance or System Efficiency Index (SEI) contact us for a demo or keep on reading!
ClimaCheck analyse and evaluates the collected data points in real time giving the user accurate information of how the HVACR-system is working and where there are inefficiencies. Making it easy to do adjustments that will increase energy efficiency.
ClimaCheck document the performance of cooling process that is independent of input from the system or component suppliers – and therefore completely neutral and unbiased.
How to apply ClimaCheck?
Flexibility and Continuity
ClimaCheck Online continuous analyse and monitor the systems performance on all levels in the "cloud". Supplying organisations and staff anywhere in the world, with real time performance analysis of the HVACR-system. With Energy Reports, you also get continuous information about the equipment's energy consumption and production.
If/when the performance of a compressors deviates, refrigerant charge changes, or if the equipment's "energy profile" is not as predicted, the system automatically sends early warnings. Before a breakdown happens.
If you need to do temporary measurements at the start of operations (commissioning), during service visit, or at performance inspections, you can use ClimaCheck onsite, our portable equipment. Within 30 minutes of connection, you will have complete documentation and analysis of the equipment's performance and the functions of all components.
ClimaCheck online gives store- and property owners, contractors, and consultants direct as well as precise information of the Heat Pumps, Chillers and Air-Conditioning units performance.
How does ClimaCheck work?
What can ClimaCheck do for your business and our climate?
The "internal method" helps you to reduce energy costs and negative environmental effects – resulting in more satisfied customers!
Did you know that 15-20% of the world's total energy consumption is used by Heat Pumps Chillers and Air-conditioning? Chillers are used everywhere to cool humans, buildings as well as food. For store- and property owners, the cost of cooling is often hidden in the electricity bill. However, it often stands for 40-60% of the total costs.
ClimaCheck have seen in thousands and thousands of measurements, that a majority of cooling/heating systems do not function as efficiently as they could, in many cases they consume 10-30% more electricity than necessary. With a higher energy costs, more breakdowns and increased CO2 emissions as a result. 
In order to decrease energy consumption there is a need to know how the equipment works! The ClimaCheck Method – is proven, tested, and award-winning for its results. And you can ClimaCheck to any air-conditioning, refrigeration, or heat pump systems to get performance in real time. Today! 
"To measure is to know"