Take the opportunity to learn performance analysing and enhance your capability to work with optimisation and early warning on air condition, refrigeration and heat pump systems.

Join ClimaChecks yearly International Training.
ClimaCheck offer world leading analysing technologies with state of the art IoT technology. The training is intended for professionals with experience and understanding of refrigeration, air conditioning and heat pump systems. Basic understanding of the thermodynamics and practical understanding of the components of a system are prerequisites for the course. The focus is how system actually operate and how to make them more reliable and efficient. Exchange of experiences between participating experts is an important part of training.
Participants on the training will get the chance to learn the latest in Optimisation and early warning.
New ClimaCheck onsite Version 5 – Learn and improve your skills of using ClimaCheck soft- and hardware to improve efficiency and reliability.
How System Efficiency Index complement COP and to identify and communicate with none experts why they need to take action? 
Learn how to analyse Sub efficiencies for compressor, evaporator, condenser and cycle to understand and benchmark performance and give early warning. 
Use energy signatures to predict and validate savings. 
It will be possible to participate in the training remotely! 
Book Now or send us your questions!
Date: 14-15 September, 2020
Price: 520€ (130€ VAT will be added)
Start: 9 a.m. Thursday
Finish: 5 p.m. Friday
Language: English.
Maximum 20 participants per level. Reserve your place for Level 1 or 2 .
Sign up at training@climacheck.com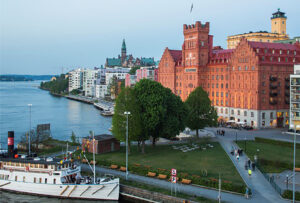 The training will be held in Stockholm at Elite Hotel Marina Tower
Upon registration you will receive a link that you can use to book a room (Stockholm is beautiful this time of the year, don't wait to book your room).